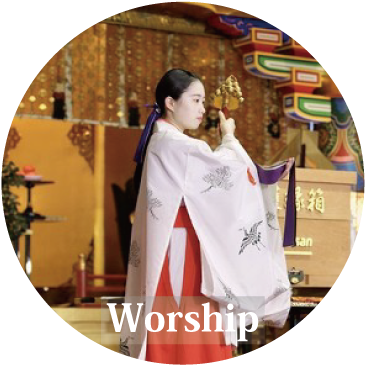 Experience tour of worship and shrine history
guided by the priests and "Miko"(shrine maiden) of Kanda Myojin shrine.
For those who have visited or would like to visit a Shinto shrine in Japan but cannot help wondering
"What constitutes a Shinto shrine?"
"How do we actually pray in a Shinto shrine?"
"What is that vermilion building over there?"
"How do we perform ritual purification?"
"What is a day in the life of a Shinto priest like?"
This is the regular activity tour for you to enjoy a comprehensive Shinto experience.
Come to Kanda Myoujin to meet and chat with our friendly staff, and experience a formal worship in the main sanctuary!
9/10・9/17・10/15・10/29・11/12

START 15:30〜16:45 END
*The schedule is subject to change. Please check the event calender or ask.
Basic plan

¥5,000

(tax included)
For groups and private event
Please feel free to contact us for group reservation or private events on preferred date.
We can arrange the activity for your own groups. (Minimum number of participants is required.)
Credit card and E-money are available